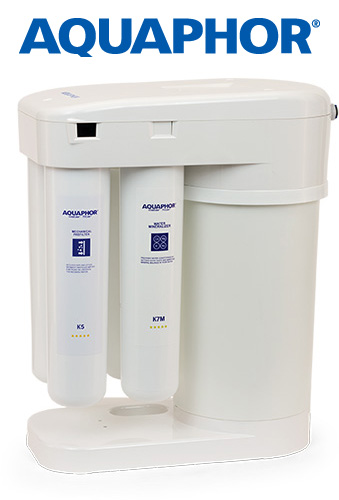 The Aquaphor Reverse Osmosis (RO) water system uses advanced technology to transforms city or well water into drinking water by removing dissolved solids, bacteria, viruses, chemicals, nitrites, and nitrates. The reverse osmosis process uses pressure to force water with a high concentration of dissolved solids through a semi-permeable membrane. Unable to pass through the membrane, the dissolved solids are washed away, and the treated water is ready to drink and use in cooking.
The Aquaphor Reverse Osmosis system provides the same quality of purified water that is sold as premium bottled water. The entire household can enjoy an unlimited supply of great tasting and safe water. Families who once purchased bottled water can save hundreds of dollars per year.
Aquaphor RO System Features
Compact size
Quick change filter system
2-year limited warranty
Composite carbon block with ion-exchange
Pre-filtration
Post-filtration
Includes dispensing spigot
Start enjoying the benefits of pure drinking water in your home! Contact us today to learn more about the Aquaphor Reverse Osmosis System!